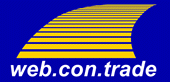 We work exclusively with native speakers for translations into the following target languages:
Africaans
Arab
Chinese
English
German
French
Indonesian
Italian
Japanese
Korean
Netherlands
Portuguese
Russian
Serbian
Serbo-Croatian
Spanish
Thai
Ukrainian
Hungarian
Vietnamese
and the languages of the Indian sub-continent.
We are able to accept your source texts in all digital formats and supply the translations in your desired format. Please find more information under
Tools
.