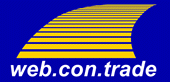 Webcontrade
J.Tian web consulting and trading
Killer Strasse 15
82166 Munich, Germany

Managing Director/Owner : Jin Tian

Tax Registrade No.: 22/240/36062
Vat-Id-No.: 215852343

Disclaimer: Despite careful control regarding content, we do not assume any liability for the content of external links. The content of the linked pages is the sole responsibility of their respective owners/providers.

Please observe the copyright of the graphic artwork. Any commercial use, public performance or duplication except for private use or for the purpose of promotion for Webcontrade is prohibited.

Copyright © 2008. All rights reserved.